Evolve360 Training Plan
Price: Rates Vary | Detailed Class Schedule
 Say "Goodbye!" To Ad-Hoc Training and Develop Optimized Skills! 

Evolve360 provides full access to our instructor-led training for an annual fee that allows for easy budgeting. Your team has the flexibility to take any scheduled course, as often as available.
---
Evolve360 is available through D3 Technologies, MG AEC, or Ecad Inc. MG AEC and Ecad Inc. are subsidiaries of D3 Technologies and our teams are working together to provide world-class training through D3's virtual classroom training platform, CAD LIVE.
---
EVOLVE360 STEPS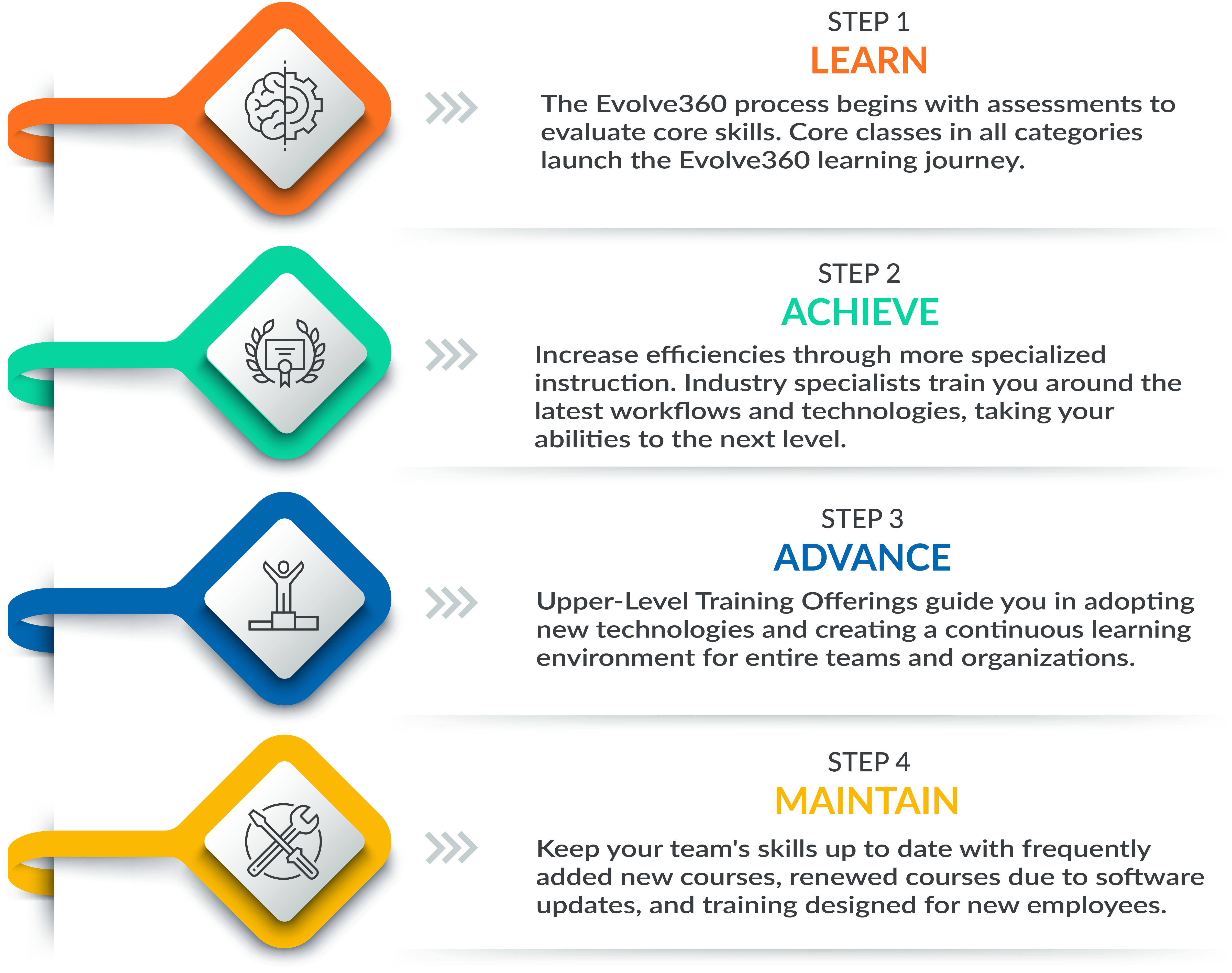 CAD LIVE
CAD LIVE is a training platform that recreates the classroom experience in a remote and digital environment. Students and instructors are connected from any location into one large virtual classroom. CAD LIVE provides lectures and demonstrations from an instructor, as well as hands-on activities in hosted software for students. Learn how to get started with CAD LIVE, system recommendations, and commonly asked questions here.
ASSESSMENTS
As part of Evolve360, an annual assessment of your team's current skill level is available upon request. Our assessment is a set of relevant and standardized questions of help you evaluate your team. The assessment results will be reviewed with you so you can see a snapshot of your team's capabilities in the software and identify power users or those who will likely benefit most from training. Assessment results can also help you evaluate how training has benefited your team over time.
NEW HIRE ASSESSMENTS
This assessment tool will also be available to you to assess potential new hires to ensure they have the skillset you require and are expecting. Investments made in hiring and onboarding a new employee are a significant expense and something you want to be sure you get right the first time. Let our assessments provide you with peace of mind in knowing your new employee has the skills you expect.
EVOLVE360 VS TRADITIONAL TRAINING
We Update our Evolve360 Course Schedule Regularly and Have Course Training Tracks Available to Help You Get Started!


Need more Information?
Contact Us By Using the Form Below.
"My company enrolled in D3's Evolve 360 training program as soon as it was offered. I believe this was one of the best decisions we've ever made. D3's instructors are very knowledgeable professionals, with most being certified in multiple programs. They take a personal interest in the student's success at grasping new concepts and are very approachable with questions during class (and long after the class is over via email)."